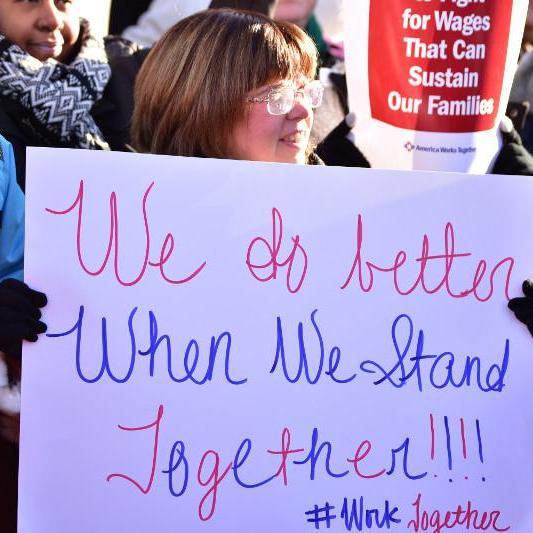 We Make Anchorage Happen!
Hall:
2601 Denali Street 
Anchorage, AK 99524
Mail:
Anchorage Municipal Employee Association AFSCME Local 16
P.O. Box 242633
The Anchorage Municipal Employees Association (AMEA) is comprised of nearly 600 Anchorage Municipal Employees, proudly providing essential Public Services that keep Anchorage working twenty-fours a day - seven days a week.
AMEA has a long and solid history of delivering public services, and first organized in 1971.  AMEA's first Collective Bargaining Agreement was negotiated that year with the existing 'City of Anchorage' Government.
In 1975 the 'City of Anchorage' and the 'Borough of Anchorage' residents voted to combine the existing dual  governments and formed the 'Municipality of Anchorage' and in 1976 AMEA affiliated with the Teamsters and maintained a thirty-three year partnership - together negotiating successful CBA's during the alliance.
In 2009, AMEA Members voted to once again become an Independent Association and selected the Law Offices of Jermain, Dunnagan and Owens (JDO) as legal counsel to provide legal representation should legal matters arise. To view more information about JDO you may visit their website at:  www.jdolaw.com.
AMEA continues its' steady progress and growth and on June 17, 2014 the AMEA Members voted to approve an affiliation agreement with the American Federation of State, County and Municipal Employees (AFSCME) the largest Public Service member organization under the AFL-CIO, to view more information about AFSCME see their website at www.afscme.org.
AMEA is now known as AMEA, AFSCME Local 16.
AMEA Members provide a wide array of essential public services vital to the daily operation of the city and the safety & well-being of Anchorage Residents.
AMEA Members ensure the air you breathe and water you drink is safe. We keep swimming pool water nontoxic and serve as lifeguards while you and your children swim. We issue food permits, inspect restaurants and make sure your food is safe to eat.  We draft, map, engineer and implement right-of-way designs, and landscaping to counteract unsafe traffic patterns and monitor noise complaints in your neighborhoods.  We license and inspect Child Care Centers to keep your children out of harms way.  We track and monitor communicable diseases, provide immunizations and vaccines to you and your loved ones to promote and protect your good health every day. We provide library research assistance; pointers for investigating your family history and loan library books to you and your family.  We issue building permits to reduce risks associated with building near flood and earthquake hazards, so that you do not unknowingly build or buy property in a high risk hazard zone. We appraise and determine the value of business and residential property, for tax purposes as well as disaster damage assessment and recovery.  We keep municipal vehicles like police cars in good working order so they are safe and ready for Anchorage Police to use when responding to your urgent calls for help.  We plan, prepare for and respond 24/7 to all public health emergencies, natural and man made disasters, like the H1N1 Pandemic, Earthquakes, Avalanches, Wind Storms,  Winter Storms and Mass Casualty Incidents, etc.